Malpractice Survival Training for Physicians is essential training for any physician who is currently being sued or is at risk for being sued over the course of his or her career. We teach you how to give yourself the best chance of successfully defending an accusation of medical malpractice. We further show you how to be a more effective witness in your own defense. In addition, we teach you what you can and should do to assist in your own defense including making sure the insurance company hires the right lawyer, assisting in case preparation and expert selection, and making a favorable impression upon the jury. We also flag common and avoidable mistakes that can destroy an otherwise defensible case.
Includes:
-10.3 hours of streaming on-demand instruction (1 year license);
-158 page written manual (PDF and free bound hard copy on request to learners in USA);
-Ability to submit questions to SEAK;
-Feedback on your CV from SEAK;
-30 minute private 1-1 phone conference with SEAK to answer submitted questions and any follow up questions and discuss customized ways for learner to improve presentation and testifying skills;
-Up to 10.25 CME Credits; and
-30 day money back guarantee.
You will learn:
• How to be a more effective witness in your own defense at deposition and trial
• How to make sure you are represented by the right lawyer and that that lawyer hires the best expert witnesses
• How to best work with and assist your defense counsel
• What makes plaintiffs angry enough to sue and how to avoid getting sued
• How to make a favorable impression on the jury
• How to understand and enforce your rights under liability insurance policies
• Factors to consider in order to decide whether or not to settle a case and if so, how much to settle for
• How to avoid common mistakes that can sink your case
• How to avoid or minimize damage to your reputation
CONTENTS:
What To Do After an Adverse Event
This section will introduce the principles of medical malpractice law and the types of real world circumstances that typically lead to such claims. You will be provided with a to-do checklist for when you are first apprised of an adverse medical event. We will also discuss how to best deal with the stress of being sued.
What the Plaintiff Needs to Prove
You will learn the essential elements of a medical malpractice claim so that you can understand what the plaintiff needs to prove and why.
How to Assist in Disproving That You Breached the Standard of Care
The faculty will demystify the legal definition of the standard of care in a medical malpractice case and explain how you can help your lawyer to disprove breach of this critical element, including the use of medical literature, standards, evidence-based medicine, and learned treatises.
How to Help Make Sure Your Lawyers Hire the Best Experts
On both sides of the case, the medical experts play a critical role in evaluating, proving, and disproving medical malpractice allegations. This section will discuss the factors that counsel takes into account in selecting these witnesses, and how you can help ensure that counsel retains the most effective expert witness on your behalf.
How to Make a Favorable Impression on The Jury
The ultimate decision maker in a medical malpractice case is the jury of lay people. In this segment, you will learn what jurors find persuasive from defendant physicians, what they do not find persuasive, what defense and plaintiff 's counsel will do to make the best impression in front of the jury, and most importantly, what you can do to help.
Understanding and Enforcing Your Rights Under Your Liability Insurance Policy
We will teach you to understand your rights and responsibilities stemming from your liability insurance, including your rights regarding the selection of defense counsel and the implication of settlement clauses and indemnity and expense limits. We will also focus on what can and should be done should you face personal exposure beyond available policy limits.
When Should I Settle?
This section will discuss what kinds of events might spark settlement, as well as other factors that should affect your decision in this regard. We will also cover who decides when to settle, who has the authority to settle, and how cases are valued. Included will be a discussion of potential conflicts in settlement decisions, avenues of settlement such as arbitration and mediation, and the impact of settlement on your practice, reputation, and malpractice coverage.
How Plaintiff's Lawyers Investigate Cases and What Makes Patients Sue
You will learn how plaintiff's counsel evaluates and prosecutes medical malpractice claims. Included is a frank discussion of the economics of pursuing a malpractice claim, the selection of expert witnesses, researching the applicable medicine, conducting discovery, developing a theme of the case, evaluating potential damages and the likelihood of success on the merits, deciding when to settle, when to mediate, when to try, and developing a winning trial strategy.
How Defense Lawyers Defend Doctors in Malpractice Cases
This section will give you an insider's view of defense counsel's role in defending a physician accused of malpractice, including how defense counsel evaluates plaintiff's allegations and selects appropriate defenses. You will learn defense counsel's strategies, including the procedural and substantive avenues they pursue to resolve these cases in the manner most advantageous to their physician clients. Included in this discussion is the dynamics between defense counsel and the liability insurance adjuster, and how defenses proceed when there are multiple-named medical defendants.
How You Can Best Assist Defense Counsel
You will learn how to be an effective member of the defense team. You will learn how defense counsel evaluates and defends a case, how to assist counsel in investigation and preparation of the case, proper pre-trial and courtroom behavior and demeanor, and how to avoid potential pitfalls.
How to Be a More Effective Witness at Your Deposition
Physicians will learn the fundamental law of depositions, what plaintiff's counsel is after at deposition, and how to be an effective witness on your own behalf at deposition, both on issues of qualification and the medicine involved. A physician who is able to persuasively and accurately describe her credentials, both in the curriculum vitae and in testimony, increases her credibility and benefits the overall defense of the case. Likewise, a defendant physician should be prepared to confidently and convincingly explain her care of the patient to the layperson without being defensive or condescending.
How to Be a More Effective Witness During Your Direct Examination At Trial
You will learn specific proven techniques on how to work with counsel to be an effective witness on your own behalf during direct examination at trial. Techniques to prepare to give your testimony will be explained, along with specific advice on how to be effective in front of the jury. These include a focus on demeanor and language, the proper use of visual aids, understanding the theme of the case and how to properly explain complicated medical concepts to the lay jury.
How to Be a More Effective Witness During Cross Examination
You will learn what plaintiff's counsel is after during cross-examination and how to be effective during even the most aggressive cross-examinations. Physicians will learn the specific advanced techniques to thrive during cross-examination by plaintiff's counsel, including how to properly prepare for cross examination, making concessions where appropriate, not being evasive or defensive, maintaining a calm demeanor, avoiding quibble, showing feeling, active listening and many more.
How To Avoid Getting Sued – Practical Risk Management Techniques
Although as a physician you can never completely eliminate the chance of being sued, there are ways to minimize your risk. This section will provide practical strategies that you can use to reduce the chances you will get sued, including superior communication skills with your patient, diligent and complete record-taking practices, employing competent and patient friendly office staff, dealing with adverse events, and developing specific office procedures regarding informed consent, follow-ups, and referrals.
The Biggest Mistakes Malpractice Defendant Physicians Make, And How to Avoid
Them You will learn the types of costly mistakes that you can make once you become a defendant in a medical malpractice lawsuit, as well as strategies and techniques you can use to avoid them. The discussion of mistakes will include not knowing your rights under your liability contract, altering medical records, giving the appearance of a cover-up by not promptly responding to patients' records requests, discussing your case with your colleagues, not being adequately prepared for your deposition or trial testimony, thinking that defense counsel has a medical degree, not being responsive to defense counsel's requests, keeping important facts about yourself or the case from defense counsel, and mistakenly thinking that the malpractice insurer has only your best interests in mind.
Continuing Medical Education Information:
SEAK, Inc. is accredited by the Accreditation Council for Continuing Medical Education (ACCME) to provide continuing medical education for physicians. SEAK, Inc. designates this enduring material activity for a maximum of 10.25 AMA PRA Category 1 Credit(s)™. Physicians should claim only the credit commensurate with the extent of their participation in the activity. This enduring material activity was originally released on July 24, 2020. This enduring material activity was reviewed on June 29, 2023 and terminates on June 29, 2026.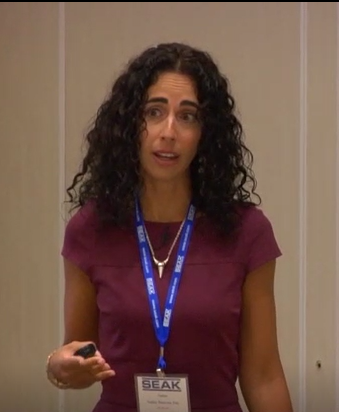 Nadine Nasser Donovan, Esq., is a former trial lawyer with extensive litigation experience. She is a SEAK trainer and consultant, having been on the SEAK Faculty since 2002 and having trained hundreds of experts via SEAK's scheduled courses, customized on site expert witness training programs, and one-on-one consulting for physicians and other disciplines. She is licensed to practice law in New York, Massachusetts, and Rhode Island. Ms. Donovan was a partner in the Boston based firm of Mulvey, Ennis, Keefe, and Donovan, LLC. Her practice area included the defense of medical professionals in medical malpractice actions and before medical licensing boards. In addition, Ms. Donovan is a Legal Writing Instructor at Boston University School of Law, and a former Adjunct Professor at New England School of Law, Boston, where she taught Medical Malpractice. Ms. Donovan also serves as a Dispute Resolution Arbitrator for the Financial Industry Regulatory Authority. Ms. Donovan previously practiced litigation in New York City, first as a prosecutor in Queens, and then as counsel for the City of New York. Ms. Donovan received her J.D. cum laude from Boston College Law School. She graduated from Fordham University summa cum laude with a B.A. in French Literature. Nadine works one-on-one with malpractice defendants to help them improve their deposition and trial skills. Nadine can be reached at [email protected] or 617-791-4282.
Sample Course Clips
Be Honest With Your Lawyer
How to Assist Defense Counsel
How to Prepare for Your Deposition
Here's what your colleagues have to say about this program:
"Very valuable information and excellent format. Thank you!"
"Nadine. You are a great teacher and always engage the listener. I am very grateful that you developed this course. Being sued for malpractice is personally very upsetting. You did a great job of walking me through the process and understaning what to expect. After going through your course, I am much better prepared to deal with my ongoing malpractice suit, both intellectually and emotionally. I would recommend your course as mandatory for every physician who faces a malpractice suit."
"Absolutely wonderful."
"Outstanding"
"Amazing and helpful"
"Super."
"Great educational experience-exactly what I was looking for."
"Excellent. Best presenter I have seen for many years."
"Excellent. Knowledge is comforting."