Learn how to supplement or replace your clinical income by performing IMEs.
The earning potential of performing IMEs is enormous. Successful independent medical examiners can an earn $100,000+ per year by performing IMEs one day per week. Exam fees average $800-$2,100 and are often much higher than this. Physicians routinely do multiple exams in one day. IMEs can be done on your schedule, with minimal additional overhead, no call, and without disrupting your current practice.
Includes:
12.5 hours of

on-demand streaming instruction

(1 year license)

;

317 page

written manual

(including

free bound hard copy

mailed to learners in the USA)

;
1/2 hour individual phone call

with

SEAK

to discuss your marketing, getting started, answer your questions, and address your concerns;

Up to 12.5 Category 1

CME

Credits;

50% discount

on one new or renewal standard listing in

SEAK's IME Directory

(this offer expires

30 days after registering for the course

); and

30-Day

Money Back Guarantee.
WHAT YOU WILL ACCOMPLISH BY PARTICIPATING:
• Start and run an efficient and profitable IME practice
• Understand specifically what referral sources are looking for from IME physicians
• Learn how to grow your IME practice
• Understand the IME selection process
• Avoid the biggest mistakes IME physicians make
• Write higher quality and more valuable IME reports
• Write more persuasive, defensible IME reports
• Reduce your legal risks
• Obtain high-quality clients with repeatable business
• Build a premier IME practice with built-in sustainability
CONTENT
The Biggest Mistakes IME Physicians Make and How to Avoid Them
The faculty identifies and discusses the most common and significant IME mistakes physicians make: administratively, gathering and reviewing the medical records, conducting the examination, interacting with the examinee, report writing, testifying at deposition and hearing, billing, collection and marketing.
Pleasing the Clients: The Latest Research on What Clients Really Want and How Can You Deliver It
Faculty review with attendees the results of their research into what IME clients are looking for from IME physicians and how these influence their selection process. Included in the discussion will be: credentials, specialization, cooperativeness, report writing ability, and ability and willingness to testify at deposition or hearing.
Advanced Physical Examination Techniques and the Quality IME Demonstrated
The faculty discusses and demonstrate an exceptional IME exam. Discussion and demonstration includes: interview and history, questionnaires, review of records, diagnostic studies, physical orthopedic/neurological evaluation, testing in numerous examination positions, tools of the trade, report writing and comment sections of the report.
Identifying Symptom Magnification, Fraud and Malingering: Advanced Techniques
Faculty discusses and demonstrates with the use of videos, the proper symptom magnification definitions, injury red flags, non-organic signs and their meanings, how to identify and demonstrate any inconsistencies, specific tests for symptom magnification, the proper use of functional capacity evaluation, and the role of surveillance.
Writing the Bulletproof IME Report: Exceeding Expectations
The faculty discusses and demonstrates how to draft an IME report that will stand up under scrutiny and cross-examination.
Efficiently and Effectively Dealing with Medical and Other Records and Materials Provided: Solving the Most Common Problems
The faculty explains the most efficient techniques for obtaining, organizing, and reviewing the medical and other records provided. Emphasis will be placed on missing and disorganized records.
IME Ethical Dilemmas: Avoiding Pitfalls and Minefields
The faculty identify the most common and difficult IME dilemmas faced by IME physicians and will offer practical suggestions for resolving them.
Innovative Premium Fee Setting and Billing Techniques
Faculty present cost-effective efficient protocols for premium fee setting and billing. Emphasis will be placed on being paid for the time spent, expertise and quality of the work product.
Working with Defense Attorneys: What They Are Really Looking For
Insight into what defense attorneys are really looking for from IME physicians. Videos of defense attorneys explaining their needs and issues are presented.
Advanced Practice Management: Maximizing the Efficiency of Your IME Practice
How to make your IME practice more efficient and profitable.
Innovative, Professional, and Cost Effective IME Marketing Methods That Work: Selection and Engagement
Simple, cost-effective strategies to market and expand an IME practice. Emphasis will be placed on what the physician and staff can do to build a premium practice.
IME Brokers and Scheduling Companies
How to identify the companies physicians may want to work with, how to develop good working relationships and what should be avoided in considering working with these companies.
Causal Relationships and the IME Physician: What You Need to Know
A detailed review of the numerous causal relationship issues and explanations for dealing with them.
The IME Physician Deposition: How to Excel
The faculty provides a detailed checklist containing many of the issues physicians will face at deposition. Special emphasis will be placed on particular IME issues and questions.
How to Deal With Requests for "Modifications," "Alterations," or "Corrections" to Your Report
The faculty offer practical, ethical, and time tested solutions to these vexing issues.
Independent Medical Examination Risk Management: What Can Go Wrong and How to Avoid It
The faculty identify the most potentially troubling and dangerous risk management issues for IME physicians and offer safe protocols for dealing with these issues. Particular emphasis will be placed on avoiding unnecessary risk.
Disability, Impairment and Ability to Work
In this segment the faculty review with the attendees what their role should be in evaluating and defining the disability, impairment and ability to work of examinees. Particular emphasis will be placed on the precise wording of opinions and reports.
Trick and Difficult Questions for the IME Physician
The faculty demonstrates in an interactive fashion the most difficult common questions IME physicians face and how to answer them truthfully and artfully. Insight is provided into the significance of the questions and the replies.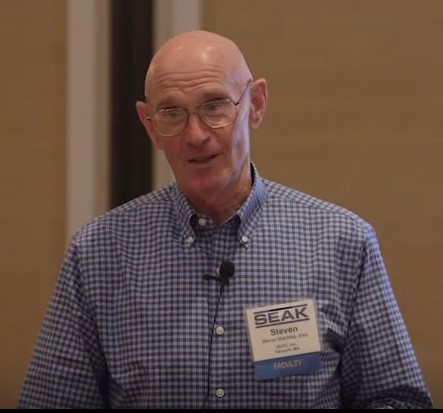 Steven Babitsky, Esq., is the Founder and President of SEAK, Inc. He was a workers' compensation trial attorney for twenty years and is the former managing partner of the firm Kistin, Babitsky, Latimer & Beitman. He is the founder of the National Organization of Social Security Claimants' Representatives, the co-founder of the American Board of Independent Medical Examiners, and the creator of the AMA Guides Newsletter. Mr. Babitsky is the co-author of the texts Writing and Defending Your IME Report: The Comprehensive Guide, Understanding the AMA Guides in Workers' Compensation, Litigating Stress Cases in Workers' Compensation, How to Be a Successful Expert Witness: SEAK's A–Z Guide to Expert Witnessing, How to Be an Effective Expert Witness at Deposition and Trial: The SEAK Guide to Testifying as an Expert Witness, and How to Write An Expert Witness Report. Attorney Babitsky created the course How to Start, Run, and Build a Successful IME Practice as well as the IME Skills For Physicians: The Master's Program. He consults with physician groups to help improve their IME practices.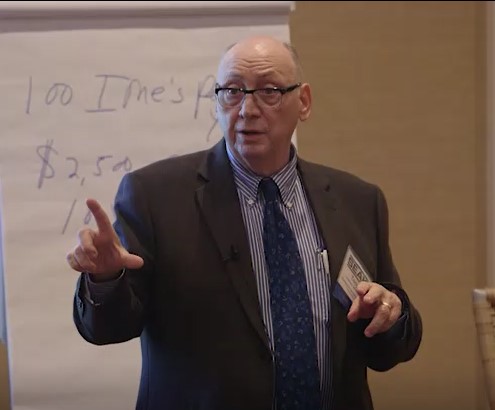 Anthony J. Dorto, MD, FAADEP is the Medical Director of the Disability Assessment Center in Miami, Florida, which performs Independent Medical Evaluations, second opinions, functional capacity, and earning capacity assessments. Dr. Dorto is certified by the American Board of Independent Medical Examiners, is a Fellow of the American Academy of Disability Evaluation Physicians, and is Board Certified in Physical Medicine and Rehabilitation. Dr. Dorto has lectured and written extensively on IMEs, symptom magnification and malingering, disability evaluation, and impairment rating. Dr. Dorto is an experienced trainer and has been on the SEAK IME faculty since 2003.
Sample Course Clips:
Advice for Reviewing Surveillance Video
How to Answer Trick Questions about the Treating Doctor
How to Avoid Creating a Doctor/Patient Relationship with an Examinee
How to Market your IME Practice
Special Techniques for an Examinee who Uses a Cane
Continuing Medical Education Information:
SEAK, Inc. is accredited by the Accreditation Council for Continuing Medical Education (ACCME) to provide continuing medical education for physicians. SEAK, Inc. designates this enduring material activity for a maximum of 12.5 AMA PRA Category 1 Credit(s)™. Physicians should claim only the credit commensurate with the extent of their participation in the activity. This enduring material activity was originally released on July 28, 2020. This enduring material activity was reviewed on July 5, 2023 and terminates on July 5, 2026. 

What past attendees have to say:
"Absolutely superb"   
"Excellent in every regarding. Great starting point."
"A great learning tool and great stepping stone to starting IME work."
"Awesome."  
"I just recently took your course 'How to Start, Build, and Run a Successful IME Practice'. Thank you for all the great information. Like I told Tony, you have saved me a lot of heartache, time, and frustration. Loved all the hints and phrases regarding testifying, report writing, etc. Loved also the list of challenging questions/thoughts, especially the one 'As a DC, being challenged in court for not being an MD'. This is giving me food for thought if I ever am asked to do a deposition or testify. Thank you also for the hints on the attorney trying to anger the one being deposed."
"Dr. Dorto's experience probably can't be matched and [counsel's] presentation was logical and elegant."
"Excellent ~ one of the best I have been to in 20 years"
"Excellent and informative." 
"Excellent coverage of entire process"
"Terrific course material and presenters"
"Excellent, of the highest quality. Really the best CME course I've been to in years, very professional."
"Excellent preparation and presentation"
"Excellent way of learning in shortest period of time"
"Excellent" 
"Excellent presenters and very knowledgeable."
"Excellent presentation/Conference. Will recommend to colleagues."
"Extremely well run, informative, and entertaining"
"Faculty very competent and good teachers"
"Fantastic and very helpful"
"Fantastic course, comprehensive A+"
"Full of usable information"
"Gives me good direction."
"Glad I attended. I gained info that will help me expand my IME practice."
"Great presentations."
"Great presentations, approachable, simple and practical information."
"Great presenters."
"Great way to start an IME practice."
"I enjoyed the course and feel it will help me get to the next level."
"I very much enjoyed your conference and hope to implement your wisdom soon!"
"Informative and entertaining. A comfortable atmosphere."
"It was fantastic and I will refer my colleagues. Both you and Tony have tremendous talent and expertise. Thank you for sharing it with us."
"It was useful to learn what attorney's look for in the background of IME doctors and in IME reports."
"More than excellent ~ profitable"
"Organized, valuable tips."
"Outstanding seminar with multiple practical tips"
"Practical point by point and examples of how to get started and forms to use, etc."
"Spot on for myself as I will start doing IMEs full-time soon."
"Terrific course material and presenters"
"The IME courses were exceptional. I am happy that I attended these two courses in Naples. The knowledge gained will make my reports stronger."
"The mock questions at the end were very enlightening."
"Tips on depositions were very practical and useful."
"Very good for intended objectives."
"Very good, efficient, useful info."
"Very good, excellent presenters."
"Very good, knowledgeable faculty"
"Very good/informative."
"Very helpful in broadening my understanding of the IME process."
"Very helpful, approachable faculty."
"Very informative about legal aspect, provided good tips to perform concise and thorough IME."
"Very informative."
"Very practical"
"Very qualified speakers, excellent presentations"
"Well organized and informative."
"Well run, experienced faculty."