Executive Summary:
This is SEAK's most popular expert witness training program. Learn the step-by-step process for obtaining expert witness assignments and excelling at them. Expert witnessing is interesting work which allows the expert the opportunity to teach and explain their field to judges, jurors, and lawyers. What is learned while analyzing cases as an expert often helps experts perform better at their professions. Experts are commonly compensated for their time at $250-$600 or more per hour. Trials are typically rare (most cases settle or are dismissed before trial) and most of the work consists of research, analysis and report writing - which can be done from home.
How to Start, Build, and Run a Successful Expert Witness Practice is appropriate for professionals of all disciplines and with all levels of expert witness experience including both highly experienced and novice experts. You will be ready to start accepting expert witness assignments immediately upon completion of this course.
What's Included:
Over 17 hours of on-demand streaming instruction (1 year license);
SEAK's 167 page handbook, provided as both a digital download and upon request (USA only) a bound printed copy;
Personalized feedback on your suggested expert witness hourly rate;
Personalized feedback on your suggested expert witness niche;
The ability to submit a list of up to three questions to SEAK's Faculty;
15-20 minute private phone call with SEAK to answer your submitted questions and follow-up questions;
A special 50% discount on one standard listing in SEAK's Expert Witness Directory listing (New or Renewal);
Up to 17.5 CME Credits for physicians plus potential for credits for other disciplines (see below);
30 Day money back guarantee.
You Will Learn:
The role of expert witnesses in civil litigation;
What attorneys are looking for from their experts;
How to properly define you area(s) of expertise and practice areas (i.e. your sandbox);
How to draft a curriculum vitae (CV) appropriate for expert witness work;
How to get cases;
How to avoid ethical problems and maintain your integrity;
The essentials of expert witness report writing;
How to set your fee and collect it;
What to bill for and when;
How to draft a retention agreement to protect your rights;
How to form defensible opinions;
Techniques for maintaining your independence and objectivity;
How to exceed expectations;
How to build a tremendous reputation;
Ethics;
Expert witness risk management techniques; and
AND MUCH MORE.
Overview of Topics:
The Role of Expert Witnesses in Civil Litigation
The proper role of expert witnesses in civil litigation. Included is an explanation of Federal Rule of Evidence 702 and the types of specific assignments experts can expect from retaining counsel including forensic consulting, report writing, and where necessary, testifying at deposition or trial.
What Successful Expert Witnesses Have in Common
What the nation's "go to" experts have in common and how they got to their position of prominence.
Finding and Developing Your Niche in the Expert Witness Marketplace
The advantages of identifying a niche for yourself. Participants will be provided with a protocol for researching their niche, determining the proper fit and developing their niche to its fullest potential. Faculty will provide feedback on your suggested niche.
Pulling Together a CV Appropriate for Expert Witness Work
Anyone considering an expert witness practice needs to prepare and maintain a CV. Participants will learn the importance of an accurate, up-to-date CV, what should and should not be on a CV, and how mistakes in preparing CVs can damage or destroy an expert's credibility. Two sample CVs are provided.
Bulletproofing Yourself - Your Qualifications, Marketing Activities, Website, Image & Reputation
How to avoid potentially devastating problems in an expert's qualifications, marketing activities, web site, image and reputation. Multiple examples are provided.
Bulletproofing Your Opinions - Passing the Daubert Tests, Your Methodology
An in-depth discussion of the legal requirements of Daubert and FRE 702 as they relate to how an expert forms and expresses his/her opinion(s) and the admissibility of the opinions. Numerous examples will be discussed. The lecture continues with practical advice on how to avoid being caught in a Daubert nightmare and how to use the Daubert criteria as a road map to bolster the persuasiveness of any opinion.
Bulletproofing Your Opinions - Research, Investigation, Chart Review and Examination
An expert's opinion will only be as strong as the facts, research and investigation upon which it is based. You will learn how to conduct an investigation, perform research and collect data in a manner that bolsters your opinion.
Bulletproofing Your Opinions - Managing the Potentially Damaging Influence of Retaining Counsel
Expert Witnesses often severely damage or destroy the persuasiveness of their opinions by allowing retaining counsel to influence (or appear to influence) their investigation, assumptions, and opinions. In this segment, participants will learn how to insulate their opinions from the appearance of being under the improper influence of retaining counsel, for example through the information the expert witness relies upon, the modification of draft and preliminary opinions, and through the communications between the expert witness and retaining counsel.
Bulletproofing Your Opinions - Rebuttals and Commenting on Other Experts
Commenting on another expert's opinions is an area that gets many experts into unnecessary difficulty. In this segment, experts will learn the right way and wrong way to comment on another expert's report.
Best Practices in Forensic Office Management
Participants will learn a myriad of techniques that will help them run an efficient and successful expert witness practice. These include optimum new case intake procedures, billing systems, document receipts and retention policies, support staff training and instruction, file maintenance, trial scheduling, procedures for keeping your CV up-to-date, how to account for all time spent on the case, responsibilities and boundaries, security and confidentiality protocols and developing and using forms, templates, and checklists.
Best Practices in Dealing with Counsel
A frank discussion of how to best deal with retaining and opposing counsel. Included is an explanation of the importance of maintaining boundaries, how to best communicate with retaining counsel, the importance of not giving away your theories or reviewing any confidential information until you have been retained, how to deal with non-responsive or incompetent lawyers, how to deal with failure to prepare you for your deposition or trial, being pushed beyond your true area of expertise, how to handle "rush" requests for reports and opinions and how to avoid problems before they materialize.
Best Practices in Report Writing
Faculty will review best practices for dealing with requests for preliminary, draft, or other written reports. Best practices for responding to input from counsel, formatting, editing, controls over release of the report, signing, and proofreading will also be provided.
Deposition Best Practices
Participants will be provided with an in-depth look at scheduling, billing, postponements, cancellations, errata sheets, and retention/destruction of deposition transcripts.
Trial Best Practices
Participants will learn more than twenty techniques to help them prepare for trial. These techniques deal with issues which include dress, logistics, travel, scheduling, payment and visual aids.
Best Practices in Fee Setting, Fee Schedules & Agreements, Billings and Collections
How to correctly value your time and set your fee. The importance of not undercharging and how to determine exactly what their time is worth. Also included is a detailed discussion of the amount and frequency of retainers, whether retainers should be non-refundable, cancellation fees, expense reimbursement and proven techniques to improve collections of expert witness and consulting fees.
Advanced Marketing Techniques for Building an Expert Witness Practice
An analysis of the utility of: search engine optimization, social media, networking, writing articles, speaking, directory listings, fees, advertising, referral services/brokers and 24-7 marketing.
Ethics and Risk Management
How to deal with common ethical problems. The potential civil and professional liability of experts. Numerous specific risk management techniques for experts including avoidance, maintaining the appropriate insurance overages, due diligence, confidentiality protocols, anti-spoliation procedures, avoiding conflicts and the overriding importance of being 100% honest.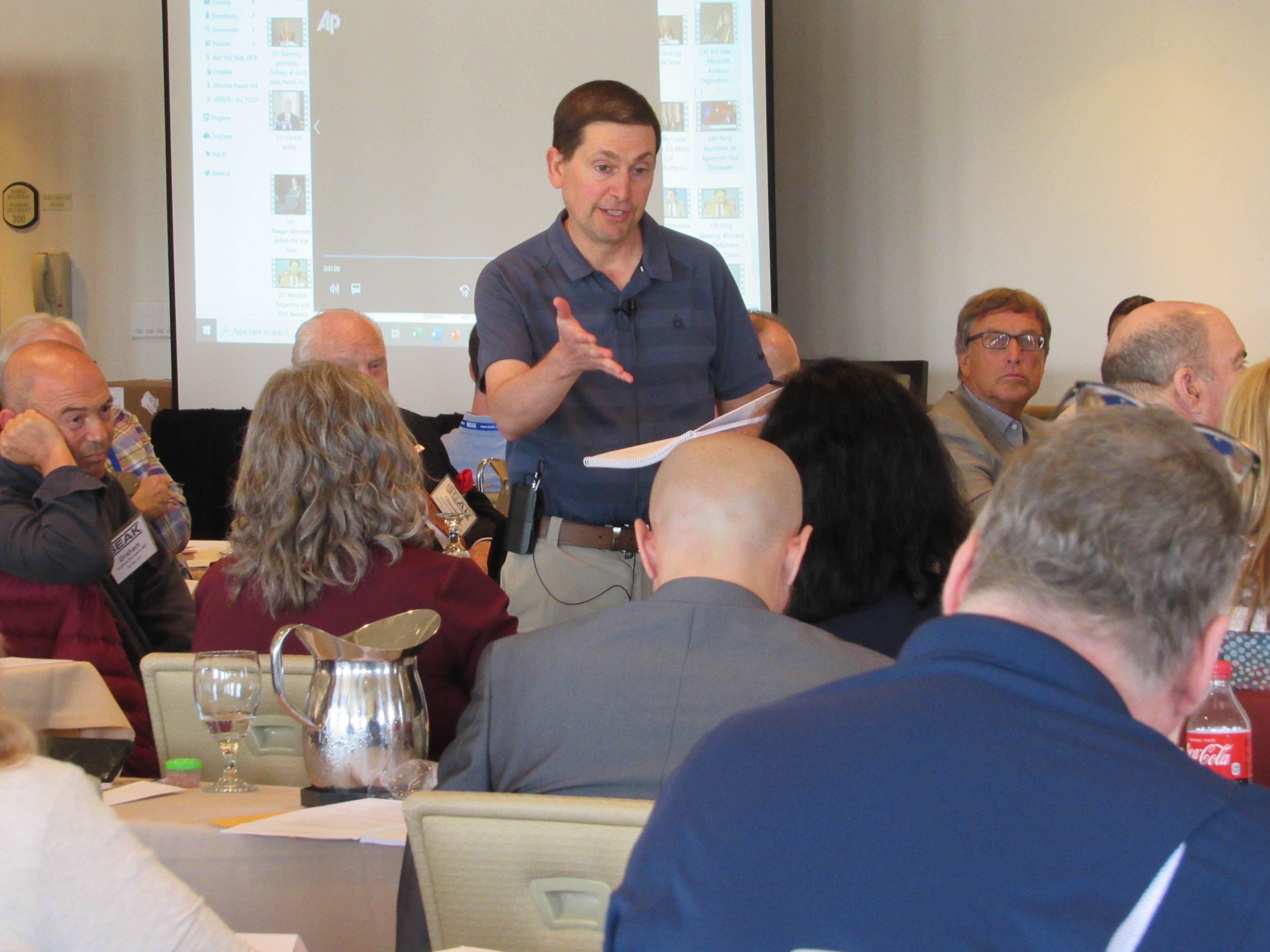 James J. Mangraviti, Jr., Esq., has trained thousands of expert witnesses through seminars, conferences, corporate training, training for professional societies, one-on-one training/mentoring, and training for governmental agencies including the FBI, IRS, NYPD, SEC, Secret Service, and Department of Defense. He currently serves as Principal of The Expert Witness Training Company SEAK, Inc. Jim is the co-author of thirty books, including: How to Be an Effective Expert Witness at Deposition and Trial; How to Be a Successful Expert Witness: SEAK's A-Z Guide to Expert Witnessing; and How to Write an Expert Witness Report. Jim can be reached at 978-276-1234 or [email protected].
What Past Participants Have to Say:
"As an educator who has conducted over 350 three-hour continuing education courses via live videoconferencing (Zoom) since April 7th, 2020, I found the instructor, course content, and hard copy booklet to be exceptional. Mr. Mangraviti stands on the mountaintop among the most knowledgeable and passionate instructors of my entire professional and academic career. I highly recommend this course to anyone who is thinking about a career as an expert witness, or someone simply wants to learn, grow, and "up their game."
"It was truly fantastic! I am a little down that I don't get to keep listening and watching every night as I had been doing. I may watch the whole thing again!"
"I loved it! So much of the content was familiar and I was glad to know that I'm doing a lot of things right. But there was a goldmine of things that I could do better, and even for someone with a lot of experience and who made the usual rookie mistakes, I learned a lot. I plan to take advantage of what SEAK offers so that I will improve my skills even further."
"Dear Atty Mangraviti, Just wanted to pass along that I was retained on two cases within four business days of being listed in the SEAK Directory. Thanks for all you and your company does!"
"[Thanks] for the fabulous Q and A session today. It was so nice to speak with everyone in person and it was incredibly helpful."
"Your course is EXCELLENT. Easy to follow with the workbook. Easy to access. No unnecessary fluff. I will recommend this course to every physician I know."
"I do a lot of online and in person [continuing education classes]. This course is at the top of my list of favorites: it was eye-opening, engaging and fascinating."
"Thanks for a great 17.5 hours of practical, engaging and high yield material!!"
"Jim: I love your style, your thinking, your brutal honesty. You are a breath of fresh air! Unexpected from a big city attorney. :)"
"Loved it. So much information it was like mapping DNA."
"Jim, We met via zoom a couple of weeks ago after I took your course on expert witnessing. I just completed my first Rule 26 Report for federal court case. I also bought the expert witness report book as well. I just had my first meeting with the law firm (three lawyers and a paralegal). They were incredibly impressed. They had one minor suggestion that was completely reasonable out of a 50 page report. When they asked about me not having a history of testifying at deposition or trial they said if you produce reports like this you won't need to. Your advice was outstanding and I was hyper meticulous in my report and it blew them away. Thanks again for everything!"
"Most amazing course I've ever taken. Learned more than I could possibly have imagined. So insightful and I do think it will revolutionize my ability to leverage my experience and expertise for gain. Liked it so much that I immediately turned around and purchased the medical malpractice expert witness course before I even finished the first course! "
"I learned a ton. Most of the things covered I wouldn't even know to ask about. Very helpful to learn how lawyers might think, what is discoverable, etc. Totally different world than medicine. Really loved the course."
"Absolutely loved it. It was a guided tour into a new world...I appreciate Jim's stories and examples to humanize what can be expected. I wish I did this twenty years ago."
"Loved the 'get your head out of your ass' mentality. No BS from Jim. Enjoyed listening to him."
"I absolutely loved this course! Gave me practical tips on starting an Expert Witness practice that I would not have been able to learn anywhere else. Two weeks after becoming listed in the directory, I got my first case."
"Hi James, thanks again for the excellent expert witness course! I've had 2 cases so far, one of which was referred by the directory. I learned a ton of useful information in the course."
"Hi Jim and Kelly, It was truly a pleasure speaking with you today. Your knowledge and perspective are very helpful as I nervously navigate this new career. As I mentioned, I enjoyed the online course and upon completion, felt more prepared than I anticipated. However, the opportunity to receive personal feedback is what has placed my SEAK experience 'over the top' for quality and content. I am excited to get started! Thank you so much for sharing your time and knowledge with me. I look forward to meeting you both, live and face-to-face, when the timing works out."
"Worth the money! This program showed and clearly demonstrated that with a little more work, I can take my understanding and make it into a new career for myself and have fun doing it. I rarely give top marks for any program, this is one of those times. While I would have preferred to attend an in-person program, your ability to adapt the program into a clean, concise and easy to use on-line format, is as good as any college level or graduate level streaming level classes I have attended."
"Very informative! Keep the comedy! It was fun"
"James, good evening. I wanted to email and say thank you. I have secured my first two clients (signed contracts and retainer checks) both of which found me through the SEAK directory."
"Hi Jim. I'm an anal retentive, obsessive compulsive, nut job (a physician) from Charleston, SC. I signed up for your online intro to expert witness course and am about 50% through it. I just wanted to let you know how much I am enjoying and learning from it. Thank you!"
"An outstanding course that arms the attendee with the nuts and bolts to at least get started in expert witness work. Jim is an outstanding, seasoned presenter."
"Great experience. Well worth the money. I now can't imagine beginning an EW practice without having completed this course."
"Jam packed with loads of valuable information and well organized. I feel empowered to embark on this journey to become an expert witness."
"Jim: It was great speaking to you the other day. I made the plunge and completed the online course. I had a phone call this morning, and it went well, in part because I knew how to phrase things properly, and in part because your course and honest feedback gave me confidence that I knew what to do. I am excited about my business going forward. I am sure I will be contacting you again in the future."
"Loved it! Excellent! It has been a tremendous help in getting my medical expert witness practice launched!"
"Jim, thanks again for your great [online] course. Just got my first two cases already!"
"I really enjoyed listening to Jim, he is hilarious and scary. Usually, I skip and don't watch all videos, but this time, I listened to and watched all the videos. I wish I could put Jim in my pocket and/or work with him."
"I took this [online] course in order to begin working in this field. It's an excellent course. I think it's given me a very strong base of knowledge to start from. Mr. Mangraviti was very engaging (which is rare in a long lecture-style format). I liked the emphasis on ethics, honesty, and practical tips for ensuring a long and successful career. I thought a lot of the examples and cautionary tales were interesting. I also appreciated a lot of the expert insights such as which documents to keep, how to avoid conflicts and entanglement with lawyers, etc."
"It was great. I learned a lot. I'm doing a lot right. I'm not doing some things at all that I must fix immediately. I did one thing wrong. But now I feel more confident in my interactions and also about the finances of this. Great content and taught with a real sense of helping and sharing what you know to impart that on those who need to know it. Part of the Hippocratic Oath is, 'I will teach the art to those desirous of learning it.' Must apply to law also."
"I had signed up for the in person course that was cancelled due to COVID-19. [This online course was] very informative and very helpful for identifying pitfalls and how to mitigate them."
"I've told clients, subcontractors and anyone who would listen for decades that they don't know what they don't know and Jim drove that home in a big way. I'll be forever grateful that I invested in this course and anyone that provides expert witness services would do themselves well to make an invaluable investment in their career."
"I liked it. It could really be a podcast, since the majority of the visuals were going through the coursebook. Great speaking style; great stories to highlight the points. I knew some of the material, but there were many take home points that will affect my behavior going forward."
"I wondered if I would get as much from this course as I have already done some expert case reviews. I am very glad that I took it! I gained confidence about what I've done correctly and learned where I have some opportunities to grow. It's given me direction. Thank you!"
"Love your dry sense of humor. You crack me up."
"I have been looking at this course for years and have ordered written materials from you. I finally made a plan to take the course and then COVID happened. I'm very happy this was an option."
"Extremely useful in helping someone get started in building a practice."
"It's great! Very informative and easy to follow."
"Overall course and Jim's [online] instruction [both] outstanding."
"I found the course to be very helpful and engaging, which is not easy to do with an online course. [Jim is] very professional and engaging. I liked the use of stories to re-enforce certain points."
"I am starting my expert witness practice in the next week or two. This course will help me get off on the right foot. I enjoyed the ethicality and common sense of the course. The many tips on dealing with lawyers and avoiding pitfalls is very helpful."
"Very helpful to take my business to a new level. I have updated my CV, website, ensured all comments were in my contract. Have new resourse tools to use. Your great.. I enjoyed your sense of humor and your tie in to the course material. You are very engaging!"
"A 'must attend' for anyone interested in this line of work"
"I enjoyed Jim's class. He was hilarious and it was like talking to a colleague, not a boring professor."
"Fantastic. Far exceeded my expectations."
"The information provided during this conference was incredible. This was certainly an investment in my practice and not an expense for it."
"Informative, inspiring and fun. I learned what I need to get started and be successful."
"Excellent. The faculty have taken so much great information and condensed it into an invaluable starter kit. I'm amazed at the things I've learned in just 2 days."
"Outstanding-reality based presentation of "those things to be expected."
"A useful combination of stories from the front lines & practical advice."
"The CV/resume exam segment was very useful. Like many in the audience, I will be working to improve mine!!"
"One of the most practical seminars that I've attended"
"Loaded with powerful information"
"Instantly executable information."
"Very enlightening- a big eye opener."
"The training was excellent – very informative"
"You guys are great, very personable, honest, available and engaging, great job"
"Excellent, well organized, engaging, and practical"
"Phenomenal – did not want the seminars to end"
"The class was outstanding! It was presented in such an easy to understand manner. Thank you again for a great class!" 
"Fabulous! Interesting, stimulating, very effective"
 "I believe the seminar was truly impressive and very informative"
 "A great learning experience presented with real world examples"
"Great! Very practical. Likely to make me money"
 "Very well organized, very practical advice" 
"Every part of the seminar was critical" 
"Jim is fabulous and fun."
 "Very informative" 
"Jim was very entertaining." 
 "Excellent presentation – going through CVs, websites was extremely helpful" 
"Great job!"
 "The program was top notch. No improvements needed."
"Excellent, only wish I had taken the course when I first heard about it"
"Loved it!"
"Well organized, upbeat"
"Very informative, exceeded my expectations"
"Professional and informative"
"Very useful, well presented, well organized"
"Jim's presentation/style is very entertaining – he's clearly brilliant and highly knowledgeable"
"Great course"
"A fair balance of what is most important and what isn't"
"Very professional, knowledgeable"
"Dynamic, interesting and knowledgeable, humorous."
"Great course and really enjoyed your presentation style and bountiful information."
"I wanted to thank you for once again delivering on an informative jam-packed-with-good info seminar! So glad I attended."
"I really enjoyed the two days which I attended the Start, Build, and Run sessions, which I found to be extremely informative. I've already begun making changes to my practice based on what I learned while attending, and look forward to further modifications as I move forward. I only wish that I had stayed for the second two days...next time."
"The course and faculty could not have been better."
"Great Seminar...Well worth it. Got much from it. Very well done."
"Dear Jim, Your training in Cape Cod was an incredible experience for me. It inspired me to schedule time to grow my expert witness business and I plan to attend more trainings in the future. My only regret is that I didn't make the time to attend your training before. My husband plans to attend the training in the next few months after seeing how excited I am to invest my free time in building my business. You are impressive and it was an unforgettable experience for me at such a beautiful location. Hope to see you and your team soon."
"Absolutely, this was one of the most practical seminars that I've attended. Looking forward to building this practice and seeing you again soon."
"Thank you, Jim. I was thoroughly impressed by your level of preparation and by SEAK in general. I am definitely a fan. I take this endeavor seriously as much hangs in the balance for patients and physicians and am glad to have found a credible educator and support network. I will certainly take more advanced training with SEAK in the future and hope to count you, personally, among my support network if questions arise."
"Very comprehensive for a two-day course."
"Entertaining and thought provoking."
"Mr. Mangraviti,the training was outstanding. You highlighted key points and gave great examples to illustrate your points."
Continuing Education Credits:
Accident Reconstructionists: SEAK will apply for credits through ACTAR upon written request at the time of registration. SEAK has been informed by ACTAR that stream on demand courses are acceptable for accreditation. Accountants: The National Association of State Boards of Accountancy (NASBA) has informed SEAK that unfortunately credits are not available for a stream on demand course of this type that does not involve live faculty at all times. Arborists: Credits from the ISA are unfortunately not available. Appraisers: The ASA has informed SEAK that credits are available for non-live courses such as this. Attorneys: Credit availability and amount varies by state. Continuing legal education credits for attorneys will be applied for if requested in writing at the time of registration by emailing

[email protected]

. Chiropractors: Credits are unfortunately not available. Engineers: Potentially up to 17.5 PDHs. The acceptance of this course is dependent upon your state(s) of registration. There is currently no quiz/test that must be passed in this course. Life Care Planners: SEAK will apply for credits through The Commission on Health Care Certification (CHCC) upon written request at the time of registration. The CHCC has informed SEAK that this stream on demand program will qualify for credits. Nurses: Contact hours are unfortunately not available. Physicians: SEAK, Inc. is accredited by the Accreditation Council for Continuing Medical Education (ACCME) to provide continuing medical education for physicians. SEAK, Inc. designates this enduring material activity for a maximum of 17.5 AMA PRA Category 1 Credit(s)™. Physicians should claim only the credit commensurate with the extent of their participation in the activity. This enduring material activity was originally released on August 17, 2020. This enduring material activity was reviewed on July 17, 2023 and terminates on July 17, 2026. Psychologists: Credits are unfortunately not available. Note: If your specialty does not appear above and you desire credits, please contact Karen Cerbarano (781-826-4974 or

[email protected]

).
SAMPLE CLIPS
Why expert witnesses should use a formal, written retention contract
Suggestions for Formatting an Expert Witness Report
The importance of staying well within your area of expertise (i.e. your "sandbox")
Don't let counsel write your report!
Why you shouldn't give off the cuff opinions during your first email or call with retaining counsel
Other Expert Witness Courses Available from SEAK